---
Presidential prediction: Obama 279 to Romney 259
OnTheIssues.org predicts that President Obama will win re-election by an electoral margin of 279-259. We predict that the popular vote will be much closer, with Romney holding Obama to under 50% of the popular vote. Hence we predict that the pundits will claim that the third party candidates acted as "spoilers" in this race. This map summarizes our prediction, or click for state-by-state prediction.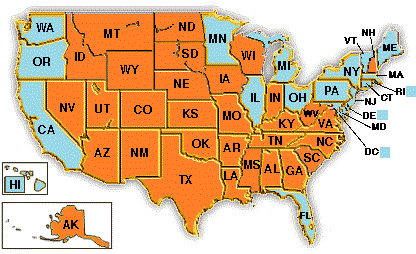 We read hundreds of polls over the last several months, and we see that the mainstream media mostly ignores the Electoral College, reporting instead on the popular vote. In the presidential election, the electoral vote is all that matters. Our map shows Romney overwhelmingly winning a geographic victory; but that same map says that Obama wins the electoral victory!

We base our prediction on Obama's state-by-state victories in 2008, modified by the redistricting changes due to the 2010 census, and then further modified by several special considerations, including:
IN, NC, and NE: There were three states that Obama won in 2008 without a majority: in IN, NC, and NE. Because the Third Party candidates are stronger in 2012 than in previous elections, we assume they will turn those states to Romney.
WI: Paul Ryan hails from Wisconsin, which Obama won in 2008; Ryan is popular in his home state, so we award the 10 WI electoral votes to Romney.
FL: Seniors will overwhelmingly vote against Ryan due to his Medicare plans.
OH and MI: Romney has been struggling to make the case that he supported the Detroit automakers during the Great Recession, but he hasn't made enough of a case to persuade the middle class.
In summary, OnTheIssues recommends what to watch for on Election Night TV coverage:
You can get an early preview when the polls close for NH and VA at 7 PM EST -- if Obama takes those states (we predict them for Romney), it means a landslide for Obama.
If not, then keep your eye on Florida, Ohio, and Michigan -- all three of which have their polls close by 9 PM EST.
So turn on your TV at 9:15 and look at the results from those three states and we predict you'll know the next president.
If Romney wins any of those three, Obama must win several of the other battleground states, or it'll be a Romney landslide.
If, as we predict, Obama wins all three, the rest of the battleground states won't matter!
Detailed state-by-state prediction of presidential election.
---
House prediction: Republican majority 235-200
OnTheIssues predicts the Democrats will gain 7 House seats, leaving control of the United States House of Representatives in Republican hands, 235-200. Our evidence is laid out below.
So why do the Democratic pundits claim that they can gain the 25 seats necessary for their party to gain control of the House? For example, the Kansas City Star on Oct. 24, 2012, cites a Democratic Congressional Campaign Committee (DCCC) spokesperson saying "The Republican majority is in jeopardy," and expressing that he is "confident that his party can buck the odds and pick up the 25 seats needed to regain control of the House of Representatives." Let's look at the sort of evidence they present, starting with the current party split -- a large Republican majority -- of 242R-193D.
OnTheIssues conducted a "vulnerability analysis" which found 26 vulnerable Republican incumbents. If all of them lose, the Democrats would gain the House majority -- it would result in a House split with a slight Democratic majority, 217R-218D.
But of course that's only a half-truth, because some Democrats are vulnerable also. Our same analysis for vulnerable Democrats knocks down the Dems' hopes to a weaker Republican majority, 230R-205D.
But it's even worse than that, due to redistricting. The 2010 census takes effect in this House election -- and will cost the Democrats another 6 seats. Some special considerations reduce that by one loss, making our final prediction 235R-200D.
OnTheIssues does not claim to be prognosticators -- but we do claim to have real substantiation for our prediction, especially when compared to the hocus-pocus of other pundits. Our vulnerability analysis has worked to identify incumbents in our local State House who have been ousted; the redistricting analysis is complicated but accurate. We would be very shocked if the Democrats do better than 230R-205D or if the Republicans do any better than 240R-195D. More extreme results than that would indicate a "landslide mandate" for one party over the other.
Detailed detailed House election prediction.
---
Senate prediction: 50-50 split; Maine's Angus King is kingmaker
33 Senate seats (out of 100) are up for election in 2012, but 23 of those seats are currently held by Democrats and 10 by Republicans. That means the Democrats have more to lose in 2012 -- but the Dems also hold the majority in the Senate, 53-47. To gain control of the Senate, the Republicans must gain 4 seats; we predict they will gain 3 seats. Below are key predictions; click for our all 33 Senate races.
State
Prediction
Predicted Winner
Predicted Loser
CT
Republican takeover
Linda McMahon
Chris Murphy
I drive throughout Connecticut for my daily business, and I see a dozen "Linda" signs every hour, in every corner of the state, whereas seeing one Murphy sign per day is a lot. While signs don't vote, the lawn owners do, and they seem overwhelming.
FL
Republican takeover
Connie Mack IV
Bill Nelson
Paul Ryan's strong stance for Medicare/Medicaid overhaul hurts the Romney-Ryan ticket in Florida, and we therefore predict Obama will win Florida based on the large elderly population in this key state. But Florida voters prefer bipartisanship and therefore Sen. Nelson will suffer from "negative coattails."
IN
Republican retention
Richard Mourdock
Joe Donnelly
Oct. 26 update: Mourdock stumbled by saying in a debate that pregnancy rape was "God's will," which infuriated women's groups, but we do not see any change in the underlying dynamics that favor a conservative Senator to represent conservative Indiana.
MA
Democratic takeover
Elizabeth Warren
Scott Brown
Obama will overwhelmingly beat Romney in blue-state Massachusetts, and we predict Warren will ride Obama's coattails to victory. Sen. Brown won in a special election -- when there were no presidential coattails -- and would probably win again if this were not a presidential election year -- but the coattails are just too long against him in 2012.
ME
Democratic takeover
Angus King
Charlie Summers
Gov. King is an independent but we predict he will win and then choose to caucus with the Democrats in the Senate, in effect gaining the Democrats one Senate vote. King is a true independent, but sides with the Democrats on healthcare, social issues, and the need for taxes to deal with the deficit -- key upcoming voting issues for Senators.
MO
Democratic retention
Claire McCaskill
Todd Akin
During the summer, we would have predicted a Republican victory in red-state Missouri, but Rep. Akin put his foot in his mouth and exacerbated the problem with yet more flubs with every passing week -- he blew it!
ND
Democratic retention
Heidi Heitkamp
Rick Berg
North Dakota's economy is booming due to new oil extraction. So this Senate race is missing the usual drag on Obama and the Democrats, that the economy is bad elsewhere and that the Democrats would limit oil extraction elsewhere -- and Hietkamp will benefit.
OH
Democratic retention
Sherrod Brown
Josh Mandel
Voter registration is an issue in many states but none more than in Ohio. As a result of the heavy-handed election-day voter suppression in minority districts in the 2004 election, Ohio Democrats have pushed voter registration and early voting (beginning Oct. 2) -- and Sen. Brown will benefit.
VA
Democratic retention
Tim Kaine
George Allen
Gov. Allen seems to have recovered from his "macaca" gaffe in 2006, but he has run the nastiest campaign in the country, and we predict that many will vote against him to signal a dislike for negative campaigning.
WI
Republican takeover
Tommy Thompson
Tammy Baldwin
The Tommy-Tammy race is one of the tightest in the country, but we predict a Republican victory based on Paul Ryan's coattails. While Wisconsin is a blue state, many independents will vote Republican on the presidential line based on Ryan's "favorite son" status, and will push that pattern downballot to the Senate race.
To summarize our prediction by party status:
3 Democratic takeovers
17 Democratic retentions
6 Republican takeovers
7 Republican retentions
The net result of our prediction: A 50-50 split in the Senate. The Republicans score a net gain of 3 seats, but that's not enough. We predict Maine Independent Governor Angus King will win his Senate race; and we predict he will caucus with the Democrats. But if he goes Republican the GOP will gain control of the Senate -- hence King will become the kingmaker in that scenario!

Detailed detailed U.S. Senate prediction of presidential election.